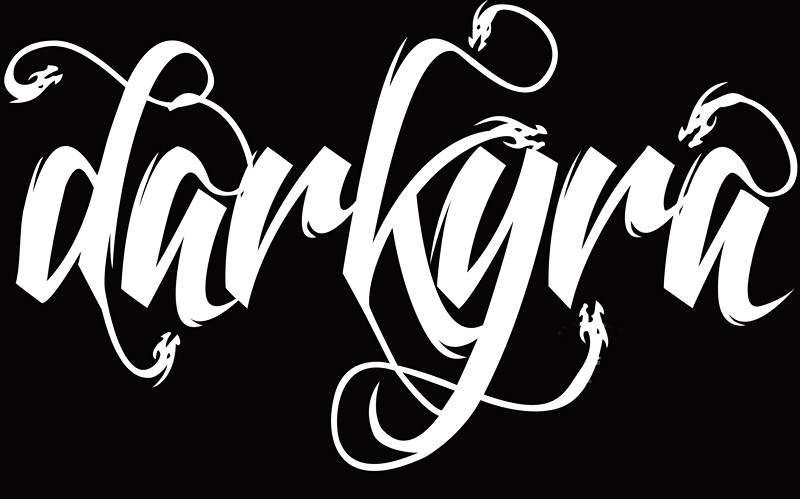 Darkyra – Something special, something you have never heard before!
"Upon first listen you may liken it to industry greats such as Within Temptation or even Tarja (ex-Nightwish) but in doing so you wouldn't even come close. Very few women in the industry are able to weave music in such as way as Darkyra and make music her own muse."
EvilG, Metal Rules (Sep 15, 2013)
Darkyra – Here and Now
Darkyra is a five piece Symphonic Hard Rock band based in Perth Western Australia. It's members consist of Gina Bafile – vocals, Dave Lyon – Guitar, Kim Siragusa – Keyboard, Dan Grainger – drums and Maciej Mastalarzuk – bass. Darkyra initially began it's roots as the solo project of singer songwriter, Gina Bafile, under the pseudonym 'Darkyra Black' in 2012. The project was a collaboration between some International session musicians and a Greek Production Company. After the successful release and rave reviews of two high production studio albums, Darkyra Black was thrown into the spotlight as a strong emerging artist within the world of female fronted metal and rock. This fueled her desire to take the music on the road.
In 2015 the focus was to project the brand as a complete band which led to the recent name adjustment from 'Darkyra Black' to 'Darkyra', and with the new found Australian members the transition from solo artist to a working band was complete.
Keeping within the traditional Darkyra Black style, the relatively young band begin their creative journey together. With a new album concept on the horizon, their very first collaboration, a song called, 'Where Troubles Rest' is now taking shape. The band is touring Netherlands & Germany in April 2016.

History – Darkyra Black Story
Dragon Tears
It was through the company 'Online Recording Masters' based in Athens Greece that Darkyra Black (Gina Bafile), found the musicians for what was to become her very first record called 'Dragon Tears'. Music Arranger George Boussounis formed an introduction with drummer/producer Garry King (Jeff Beck, Joe Lynn Turner) and ideas for the concept started to evolve between the three. Three additional members were brought in to join the ranks of the Darkyra Black team for the 2013 recordings, guitarist's Paul Jupe, Betovani Dinelli, and keyboard player Fab Jablonski. The first Darkyra Black track prior to the full album release came out on an official video for the single 'Tears by Candlelight' in 2013 generating much interest in the full record. "Dragon Tears" a concept album based on a Gothic interpretation of a geisha like tale that ends in tragedy, love, loss, lust, betrayal and revenge, was released in February 2014, and built instant critical acclaim internationally as a fine blend of symphonic/gothic metal with powerful vocal performances and progressive/classic rock elements of traditional pentatonic music with an overall 'Cinematic' sound and feel.
"All eleven numbers here are different but are very fluent and offer up musical highlights galore, too numerous to mention, ensure you keep the CD in the player to the VERY end. To summarize, Darkyra is Dark, Passionate and Edgy and demonstrating fine vocal prowess"
– Ravenheartmusic Review (6th February 2014)
Of Fools and Gold
With the first record under her belt and amazing reviews it was time to set the scene and start the next stage of creating songs and music for a second follow up album and plan ahead for live shows and touring. In January 2014 even before Dragon Tears was officially released, Darkyra had already started work on 15 new track ideas ready for an April studio sessions deadline in the historic city of Athens. With George and Garry being based in Europe plans where laid for the three with guitarist Betovani and Keyboard player Fab Jablonski to start work recording drums, guitars, guide keys and main vocal parts for what should be the most amazing and powerful follow up record in the Darkyra hystory.
'Fool' was released late 2015. Again with a very strong story line, searing string sections and memorable melodies, vocal performances and songs. The record will surely prove that Darkyra Black has set a standard very hard to beat and certainly hard to ignore both lyrically and musically.
http://www.darkyra.com/
https://www.facebook.com/DarkyraOfficial
https://plus.google.com/u/0/+DarkyraBlack1/posts/p/pub
https://www.youtube.com/user/darkyrablack
https://twitter.com/darkyrablack
https://soundcloud.com/darkyra
http://darkyrablack.japanmusicpromotion.com/
https://darkyrablack.bandcamp.com/album/fool