WARBRINGER to Release
'Total War – The Complete Cassette Box Set'
Announce Tour Dates for 2023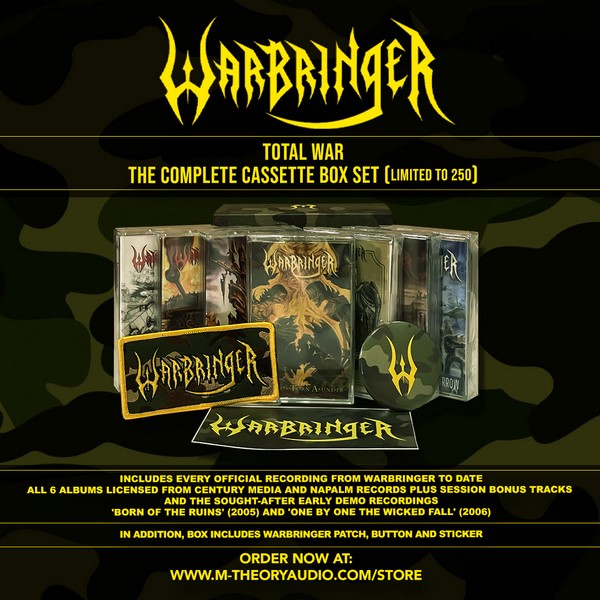 Thrash metal force WARBRINGER in cooperation with M-Theory Audio is releasing Total War – The Complete Cassette Box Set February 10th. Collecting all 6 of the new era metal band's albums with bonus tracks on each from the same recording sessions. Additionally, the box includes the band's sought-after demo recordings, 2005's Born Of The Ruins and 2006's One By One The Wicked Fall. Housed in a camo matchbox style box with Warbringer patch, sticker and pin and limited to 250 copies
Spanning over 15 years of music one can hear and appreciate the journey begun by teenagers inspired by their influences to an international recording and touring juggernaut trailblazing new paths and inspiring a next generation. Officially licensed from past label Century Media and current label Napalm Records Total War… introduces each of their albums onto the classic cassette format each with its own unique colored shell. And each album collecting bonus tracks from the same sessions including b-sides and cover versions totaling 12 additional songs.
"Road Warriors! Starting off the new year "locked & loaded" and we're excited to announce our collaboration with M-Theory Audio to bring you Total War – The Complete Cassette Box Set," exclaims drummer Carlos Cruz. "This is a limited release you don't want to miss out on, so pre-order yours now! We'll see you on the road!"
WARBRINGER continues to tour in support of their 2020 Napalm Records release, Weapons of Tomorrow. The noteworthy release proves the true mastery of their craft, and spurred a forward shift of an entire genre – transporting thrash into a brand-new era. Building upon their internationally-acclaimed blistering attack, with Weapons of Tomorrow, WARBRINGER showcases a refreshed technical approach and a heightened focus on unique lyrical and vocal style. The record takes the promise of the band's previous release, Woe to the Vanquished, and carries it onward, presenting WARBRINGER at their absolute best.
Unfortunately releasing the band's sixth album on the onset of the pandemic and mandated shutdowns proved difficult for these diehards who were forced to sit off the road for two years coming back to stages across America last year first supporting Cavalera's 'Beneath the Arise' tour, and then headlining their own trek with Bay Area legends Heathen and young upstarts Misfire.
Next up, WARBRINGER will return to the seas aboard this year's 70000 Tons of Metal cruise, before a couple of Southern California crossover shows performing Feb 10th in Oxnard with Dead Heat and Feb 11th in Pomona with Excel and Fueled By Fire. All of the shows are just the warm-up to their European spring dates where they will crisscross the continent performing alongside bands like Belgium's Evil Invaders and Schizophrenia, Australia's Mason and finally Scotland's Hellripper for the UK dates. With a return planned in August to perform at prestigious European festivals.
Formed in late 2004, WARBRINGER has gone on to be one of the most consistent and well-regarded thrash metal bands of the new generation. After releasing two demos, the band broke out with their 2008 debut, War Without End – a record illustrating a frantic energy and aggression which had been absent from metal for some time. The band continued to redefine their sound on each of their next four career-defining albums – 2009's Waking Into Nightmares, 2011's Worlds Torn Asunder, 2013's Warbringer IV: Empires Collapse and 2017's Woe To The Vanquished, their first via Napalm Records (Billboard – #8 New Artist Albums, #17 Hard Music Albums, #26 Current Rock and #29 Independent Current Albums). WARBRINGER has bolstered their performance roster by relentlessly touring internationally throughout five continents with iconic artists such as Megadeth, Exodus, Arch Enemy, Testament, Napalm Death, Iced Earth, Nile, Suffocation, Kreator, Soilwork, Overkill, Sepultura, Hatebreed, Nevermore, Dark Tranquillity and many more, and found themselves working with industry greats on each new album – creating with producers such as Steve Evetts (Symphony X, DevilDriver, The Dillinger Escape Plan), Bill Metoyer (Slayer, D.R.I., Dark Angel), thrash legend Gary Holt (guitarist, Slayer/Exodus) and Mike Plotnikoff (In Flames, All That Remains, Fear Factory). The ever-evolving quintet continues to renovate their potent concept with each passing year, without ever losing focus on the future. Metal Injection said it best, "…the almighty WARBRINGER have proven that they reign eternal… no matter what the circumstances."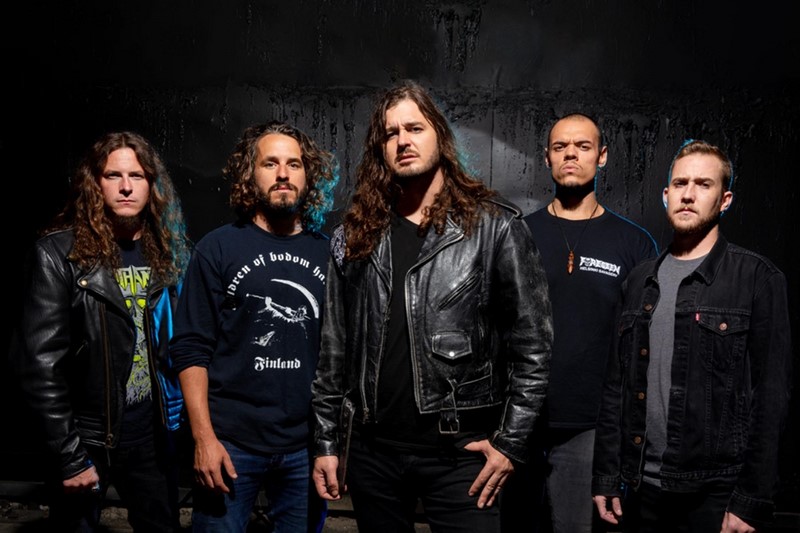 WARBRINGER Upcoming Live Shows
1/30 – 2/3 – 70000 Tons of Metal Cruise
2/10 – Oxnard Performing Arts Center – Oxnard, CA w/ Dead Heat
2/11 – The Glass House – Pomona, CA w/ Excel and Fueled By Fire
EU tour with Evil Invaders, Schizophrenia, Mason
3/24 – Oilsjt Ontploft – Aalst, Belgium
3/25 – Turock – Essen, Germany
3/26 – Le Grillen – Colmar, France
3/28 – Goldgrube – Kassel, Germany
3/29 – 7er – Mannheim, Germany
3/30 – Hellraiser – Leipzig, Germany
3/31 – Bfh Pauli – Hamburg, Germany
4/1 – Beta – Copenhagen, Denmark
4/2 – Cassiopeia – Berlin, Germany
4/3 – Hydrozagadka – Warsaw, Poland
4/4 – Kamienna 12 – Krakow, Poland
4/5 – Backstage Halle – Munich, Germany
4/6 – Modra Vopice – Prague, Czech Republic
4/7 – Barba Negra – Budapest, Hungary
4/8 – Kulturwerk 118 – Sursee, Switzerland
4/9 – Schlachthaus – Dornbirn, Austria
4/10 – Viper Room – Vienna, Austria
4/11 – Cave du Manoir – Martigny, France
4/13 – Rock N Eat – Lyon, France
4/14 – L'ampli – Pau, France
4/15 – La Nau – Barcelona, Spain
4/16 – Nazca – Madrid, Spain
4/17 – Sala Rebullon – Mos Pontreveda, Spain
4/18 – Sala El Tren – Granada, Spain
4/19 – Sala Lo Intento – Zaragoza, Spain
4/20 – Le Ferrailleur – Nantes, France
4/21 – Backstage By the Mill – Paris, France
4/22 – Willemeen – Arnhem, Netherlands
4/23 – Cacaofabriek – Helmond, Netherlands
4/24 – Café Glocksee – Hannover, Germany
4/26 – Asylum – Birmingham, England w/Hellripper
4/27 – The Bread Shed – Manchester, England w/ Hellripper
4/28 – Cathouse – Glasgow, Scotland
4/29 – Boston Music Room – London, England w/ Hellripper
4/30 – Baroeg – Rotterdam, Netherlands w/ Evil Invaders, Schizophrenia, Mason
8/18 – Kaltenbach Open Air Fest – Kaltenbach, Germany
8/20 – Dynamo Metalfest – Eindhoven, Netherlands
WARBRINGER is:
John Kevill – Vocals
Adam Carroll – Guitar
Carlos Cruz – Drums
Chase Becker – Guitar
Chase Bryant – Bass
More Info:
FACEBOOK
INSTAGRAM
TWITTER
www.m-theoryaudio.com